Pulse !
Bootcamp for Botanists -- Botanical Woodstock -- Extreme Botany
Call it what you will, there is nothing like Pulse. The annual "pulses" of Carolina Vegetation Survey have become established as special events for those interested in the natural history of the Carolinas. We sample a wide variety of natural communities in areas well known for their biological diversity. Many of these areas are not readily accessible without special arrangements with landowners/managers. This is an ideal way to see new and exciting areas, meet others interested in botany and ecology, and to share knowledge and experience.

To get a feel for pulse, look at our Photos, download our Slideshow (23M), or just join us for a few days.
At Carolina Vegetation Survey pulses core scientists and volunteers from across the region study a portion of the Carolinas intensively. All persons interested in vegetation and/or field botany are invited to participate for as many days as is convenient. The entire event typically lasts eight days. Any level of experience is appropriate; the only requirement is that you bring your enthusiasm for field work. Lodging is provided, and sometime even a t-shirt can be had.
Data collection methods are standardized and are now widely employed across the Southeast. In addition to increasing our understanding of the vegetation of the Carolinas, data collected by the Survey are used for inventory, monitoring, and targeting restoration of the biodivdersity of the region. Data are are available to researchers, government agencies, and conservation organization upon request.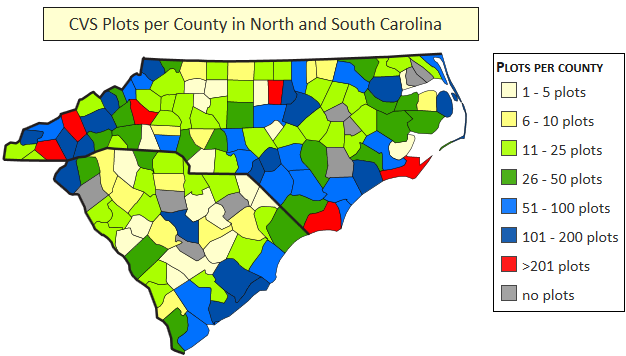 Past pulse events
Click on "Map" below to see locations of plots for a pulse. Plots are color-coded by team. Plot number and most similar established National Vegetation Classification (NVC) community type can be seen by clicking on the marker. Zoom in to see the multiple plots in one location.

Click on "Plots and Communites" to see plot assignments to NVC community types. Note that a plot can be assigned to more than one community, especially if the fit is low. The number of plots with low fit demonstrates the importance of these plots for improving the NVC.
2015 Inner Coastal Plan of South Carolina
[Map: VegBank] [Plots and Communities]
2014 Murphy2Manteo -- Undersampled community types
[Map: VegBank] [Plots and Communities]
2013B West-central Piedmont.


[Map: VegBank] [Plots and Communities]



2013A Asheboro region and the NC Zoo.
[Map:VegBank] [Plots and Communities]

2012B Central South Carolina Piedmont
[Map:VegBank] [Plots and Communities]

2012A Central Coastal Plain of North Carolina.
[Map:VegBank] [Plots and Communities]

2011B The North Carolina Triangle
2011A The South Carolina Southwest Piedmont
2010B The Western North Carolina Mountains
2010A North-Central Piedmont
2009F Lacunae of the Maritime Fringe
2009E Piedmont non-alluvial wetlands
2009D Coastal Plain Brownwater River Vegetation
2009C South Carolina Coastal Fringe
2009B South-Central Piedmont
2009A Pamlimarle Peninsula & Pamlico River-South
2008C Piedmont Riparian Vegetation of the Catawba River Basin

[Map: VegBank] [Plots and Communities]

2008B Upper Tar River & Meherrin/Chowan Rivers
2008A Columbus County NC & Horry County SC
2007C Piedmont Riparian Vegetation of the Neuse-Tar River Basin
2007B Croatan & Down East
2007A Western sandhills
2006D Montane non-alluvial wetlands
2006C Piedmont riparian vegetation of the Cape Fear Basin
2006B North of the Albemarle
2006A Bladen Lakes Region
2005B SE North Carolina Coastal Plain (Brunswick County)
2005A Lower Santee River Country, SC
2004B Northeastern Coastal Plain - Windsor
2004A Southeastern Coastal Plain - Pender and adjacent counties
2003B Forests and glades of the Rock Hill - Charlotte - Gastonia Area
2003A The Outer Banks and Mainland Dare County
2002D Mafic vegetation of Wadakoe Mountain
2002C Northwest Piedmont of North Carolina
2002B Bird Island
2002A Piedmont Flat Rocks, NC
2001B South Mountains and adjacent Blue Ridge Escarpment, NC
2001A Shrubland, grassland and marsh vegetation of the SC coastal fringe.
2000B Gorges State Park and vicinity
2000A Pinelands and Maritime Forests of the SC Coastal Plain
1999B The Amphibolite Mountains of Ashe & Watauga Counties, NC
1999A Calcareous Forests of the NC Coastal Plain
1998B Hickory Nut Gorge and the Hot Springs Window, NC
1998A Calcareous forests of the SC Coastal Plain
1997 Highlands
1996 Nantahala Mountains
1995 Grandfather Mountain & Roan Mountain.
1994 Uwharrie Mountains
1993 Fire-maintained pinelands - NC Coastal Plain: Brunswick, Columbus & Robeson Counties.
1992 Fire-maintained pinelands- NC Coastal Plain: Pender and Bladen Counties.
1991 Fire-maintained pinelands - NC Coastal Plain: Croatan NF and Camp Lejeune.
1990 Fire-maintained pinelands - NC Sandhills.
1989 Fire-maintained pinelands - NC Sandhills
1988 Maritime Forests